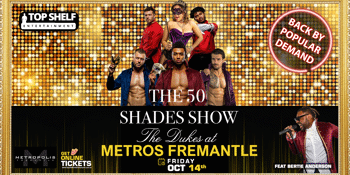 Top Shelf Entertainment Presents
The 50 Shades Show
Featuring Bertie Anderson
Metropolis Fremantle (Fremantle, WA)
Friday, 14 October 2022 7:00 pm
For 10+ Years, Top Shelf has been performing on stages, buses, boats and in your house, but for the very first time ever we present
Top Shelf Entertainment LIVE at Metros Fremantle
Read the book? Watched the movie?
Now come and experience it LIVE.
Top Shelf present every woman's fantasy, so step into a 50 shades of grey styled show consisting of Suited suave men, handcuffs, whips, blindfolds, and unpredictable climaxes!
Always evolving, Top Shelf is bringing the freshest themes and ideas to life on stage!
With the motto "Dancers that can strip NOT strippers that can't dance" the boys have been training hard in the studio to present to you a top notch show.
With SELLOUT shows and 5 star Fringe reviews we have decided to bring the ENCORE 50 Shades show to delight you live at Metros Fremantle!
What to expect?
Topless waiters
Dancers
Strippers
Live Singers
Your amazing Queen MC host to take you on your 50 Shades of Grey journey
A fully themed 50 shades Of Grey male cabaret stage show perfect for birthdays, ladies nights and or Hens night and High tea. Read the books? Why not come and see it LIVE!
MR GREY WILL SEE YOU NOW